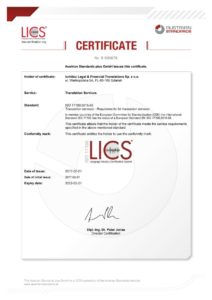 IURIDICO Legal & Financial Translations complies with the highest quality standards. We are certified in accordance with the ISO 17100:2015 standard for translation services.
Working for the most demanding Clients, such as, for example, EU bodies and institutions, we have developed our own internal quality control system, which allows us to ensure that even the highest expectations will be met. Every translation project is treated individually, that is why we select translators and reviewers for every separate project on the basis of its content and expectations of the Client.
In order to maintain the highest quality of translation, we apply a two-stage quality control system – the translation is verified by another translator – reviewer. Verification process comprises ensuring the accuracy of translation, the use of terminology in accordance with a particular domain or the reference material provided by the Client, the consistency of terminology within the project, proper syntax, punctuation and other conventions characteristic of the target language, as well as keeping correct formatting of the text. To ensure that all the aspects are fulfilled, we have developed our own check-list aiming at simplifying the quality control process. All feedback received from the Client is thoroughly analysed and implemented in future translation projects.